Lessons in Chic Comfort from an Interior Design Mix Master
Behind the old–New England facade of the famously luxe Mayflower Inn & Spa lies a fresh surprise: a Celerie Kemble redesign that combines influences from all over the world—patterned-tile ceilings, ikat-wrapped lampshades, botanical murals that crawl impishly across otherwise-proper khaki walls—along with an enormously airy, cutting-edge spa from The Well and epic bone broth (and an epic entire menu) from April Bloomfield. About two hours from NYC, it's a place to unplug, indulge, and unwind—and it's also a near-inexhaustible source of design inspiration.
Scale can be as enchanting as color.
Step through the door into the huge entry hall and your eye goes…everywhere at once. There's pale-blue wallpaper in a wild, large-scale print; a plush rug in dark eggplant and palest pink; a modernist wire chandelier punctuated with small traditional shades; and a circular wood table strewn with beautiful objects and surrounded by pale stools in organic shapes. Somehow, the effect of all this detail is soothing, drawing you further into the space. Kemble is a master at mixing color, texture, and pattern, and she also takes care to contrast large spaces with small, cozy ones and commanding objects with smaller ones.
A nearly three-foot-tall black paper hollyhock from New York artist Livia Cetti anchors a collection of smaller objects along a mantelpiece; in any space, it's a simple, dramatic detail that references nature in the most charming way.
The Green Vase

Hollyhock Plant

goop, $375

SHOP NOW

The Green Vase

Floribunda Rose Plant

goop, $565

SHOP NOW
The Green Vase

Hollyhock Plant

goop, $375

SHOP NOW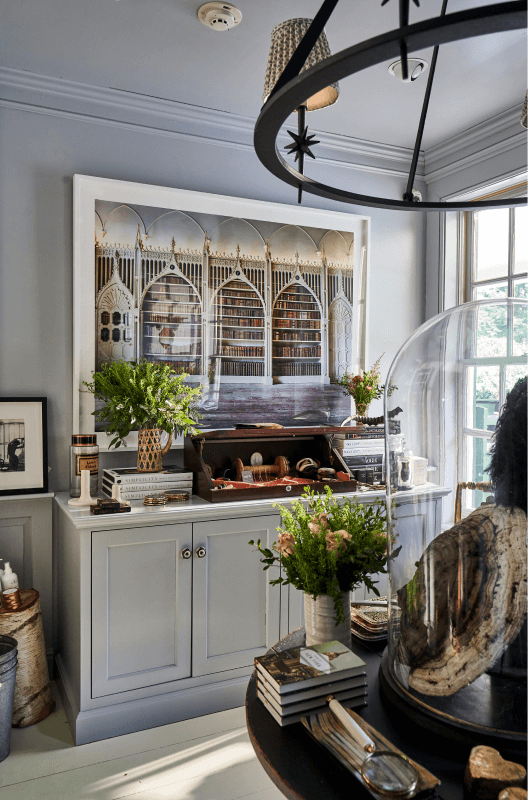 Reference the natural world to make a space feel particular (and a little wild).
Whether it's a scent, a texture, or a literal depiction of nature, there isn't a room at the Mayflower that doesn't bring the outside in.
Tala

Walnut Knuckle Table Lamp

goop, $165

SHOP NOW

Maison Louis Marie

No.04 Bois de Balincourt

goop, $34

SHOP NOW

Gayle Warwick Fine Linen

Victoria Napkin

goop, $106

SHOP NOW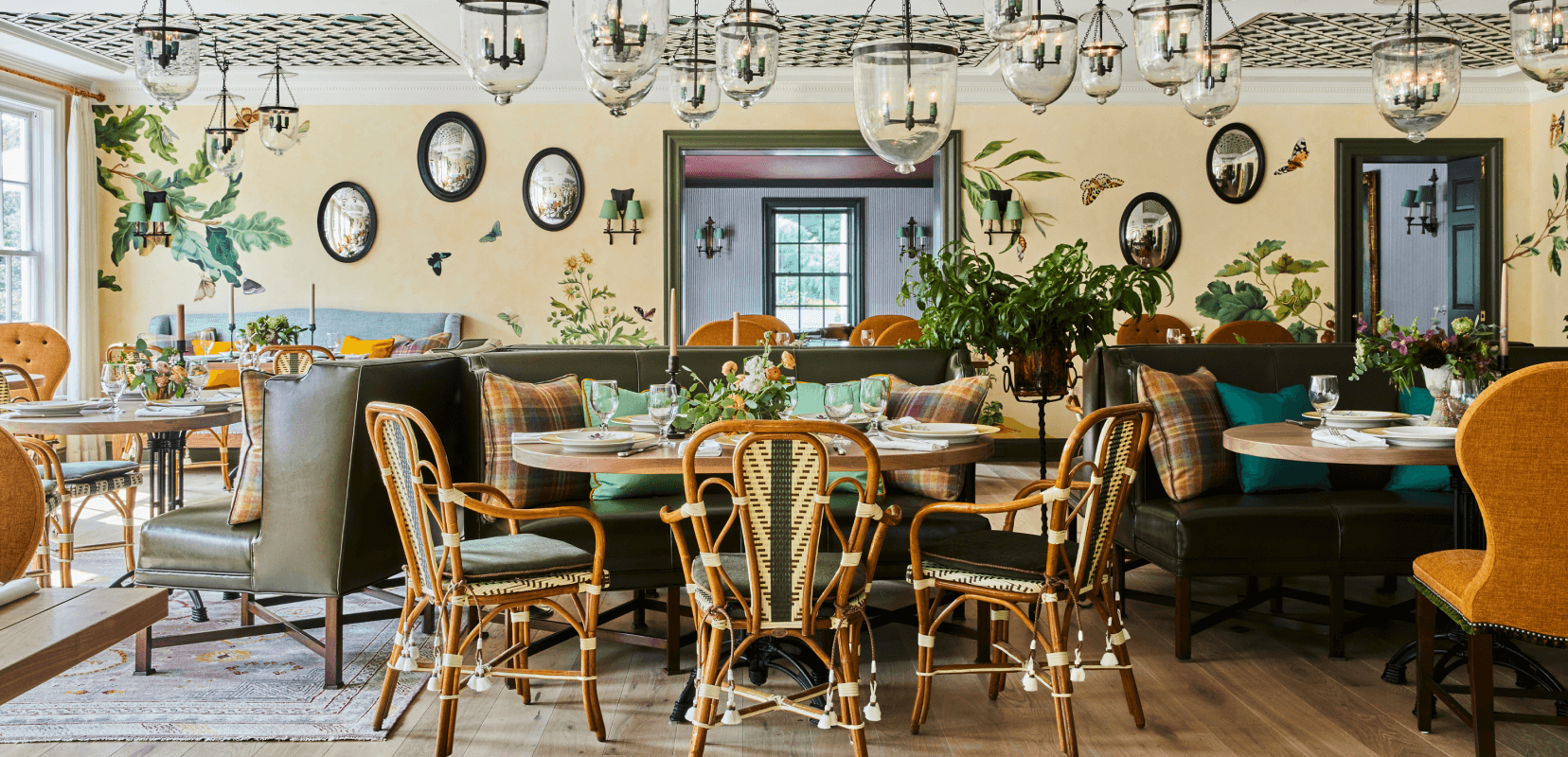 You can go a little whimsical in the dining room.
Walk through a hallway (small, of course, after the soaring entry) into the airy restaurant overlooking a vast meadow ringed by evergreens. Botanicals, birds, and insects are painted along the walls; the ceilings are crisscrossed with Turkish tiles and hung with glass pendants; and elegant sofas and rattan café chairs crowd around the wooden tables.
April Bloomfield is the chef in residence, and the food is epic—farm-to-table with all the richness and complexity Bloomfield's cooking is famous for. The aforementioned bone broth combines beef, pork, and chicken broth with warm spices (star anise? cinnamon?). The cauliflower tikka masala is out of this world, the haddock chowder is smoky and inventive, and the fried chicken is unbelievable.
Have cocktails (and the unfathomably delicious deviled eggs) in the cozy, wildly wallpapered Tap Room or take them outside into the Shakespeare Garden.
goop x Social Studies

Salad Plate

goop, $34

SHOP NOW

goop x Social Studies

Dinner Plate

goop, $45

SHOP NOW
goop x Social Studies

Flatware (4-Piece Set)

goop, $48

SHOP NOW

goop x Social Studies

Napkin

goop, $18

SHOP NOW

goop x Social Studies

Glassware

goop, $14

SHOP NOW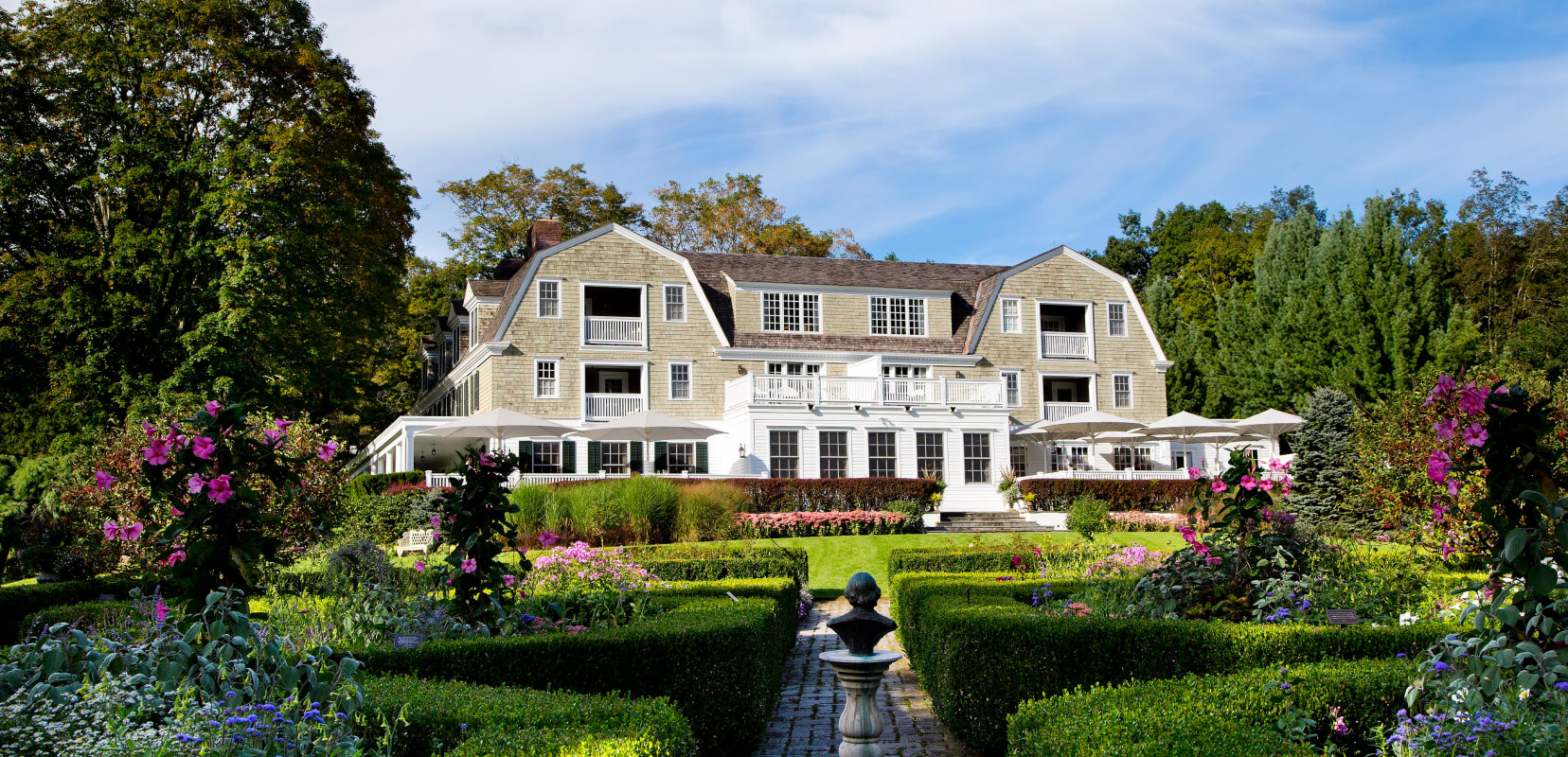 For instant atmosphere,
add a firepit.
The back lawn of the Mayflower, centered around the charming Shakespeare Garden, is dotted with little groupings of Adirondack chairs around small firepits. Watching a crackling fire and sipping a fantastic cocktail as the sun sets and the world goes dark has to be one of the more enchanting ways to spend an evening. The hotel strategically lights up especially spectacular trees on the property once it's fully dark, so linger into the night and soak up the magical atmosphere.
Barebones Living

Portable Outdoor Fire Pit

goop, $140

SHOP NOW

Atelier Saucier

Blush Linen Cocktail Napkins Set of 4

goop, $28

SHOP NOW
Business & Pleasure Co.

Premium Beach Umbrella

goop, $299

SHOP NOW

Trendglas JENA

Large German Glass Mug

goop, $22

SHOP NOW

Business & Pleasure Co.

The Tommy Chair

goop, $249

SHOP NOW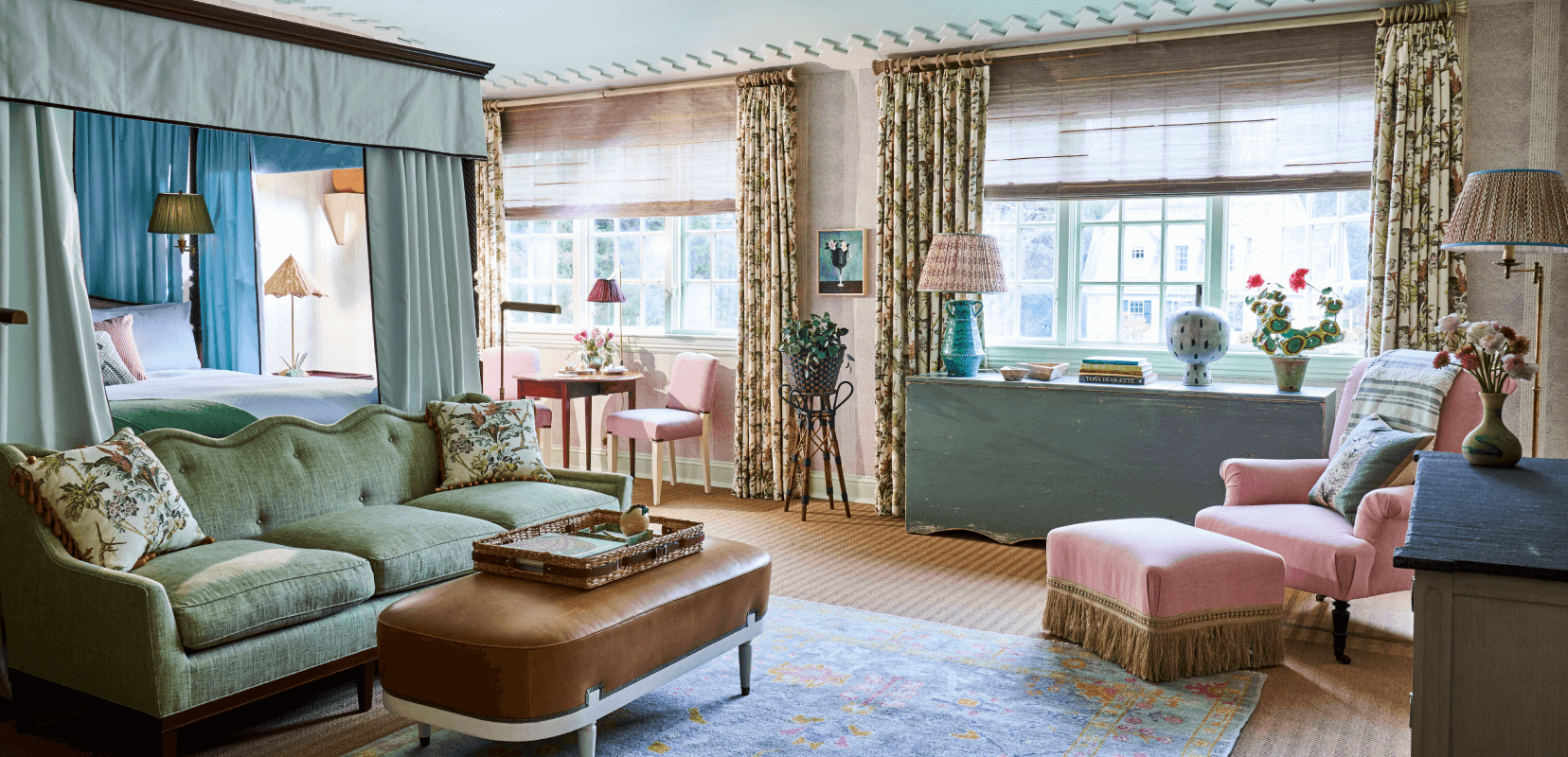 Layers create a cocooning retreat in a bedroom.
The guest rooms mix periods, patterns, fabrics, and colors with abandon, yet the overall effect is soothing. (There are a number of rooms with four-poster beds swathed in layers of pale-turquoise, cream, or pink silk that made us feel like we were sleeping in Sofia Coppola's Marie Antoinette.) Throughout the hotel but especially in the rooms, it becomes clear that pale pink is the chicest neutral—mix it with practically any other color to create a serene, warm feeling.
Morrow

Organic Matte Sateen Sheet Set

goop, $196

SHOP NOW
goop x GreenPan

Blush Padova 10-Piece Set

goop, $400

SHOP NOW

Baina

Cove Organic Cotton Towel

goop, $80

SHOP NOW

Baina

Martha Organic Cotton Bath Mat

goop, $80

SHOP NOW

Caravan

Bistro Glasses, Set of 6

goop, $68

SHOP NOW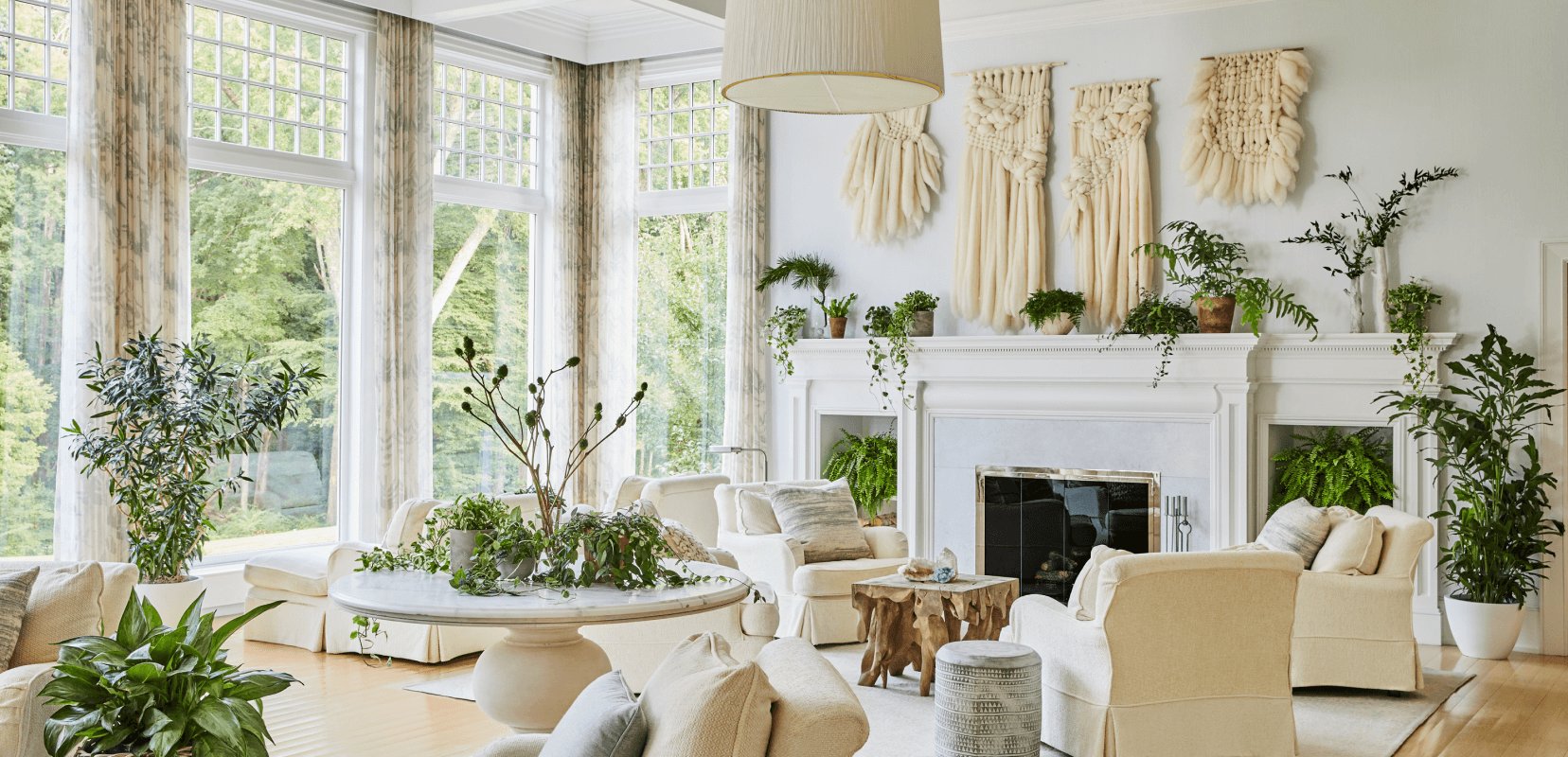 Bring the next-level spa home.
The Well worked with the Mayflower to create one of the most beautiful, relaxing, transformative spas anywhere. Even if all you do is take a yoga class (they're amazing); soak in the plant-filled, glass-enclosed hot tub; or stare out the enormous windows of the airy relaxation room, you'll emerge deeply soothed and energized. But have the craniosacral massage outside on a heated bed in a grove of spruce trees while lacy snowflakes swirl around you, if you can. The spa offers all manner of bodywork, skin treatments, and extensive integrative health coaching (Dr. Frank Lipman is the chief medical officer at The Well), along with incredible farm-to-table spa food.
Samaya

Meditation Pillow Set

goop, $299

SHOP NOW

HigherDOSE

Infrared Sauna Blanket V3

goop, $500

SHOP NOW

goop x PUMA

Yoga Mat

goop, $50

SHOP NOW

goop Beauty

Rose Quartz Soothing Face-Massage Roller

goop, $45

SHOP NOW

goop x SOMA

goop Glass
Water Bottle

goop, $40

SHOP NOW

HealthyLine

Gemstone Heat Therapy Mat

goop, $1,049

SHOP NOW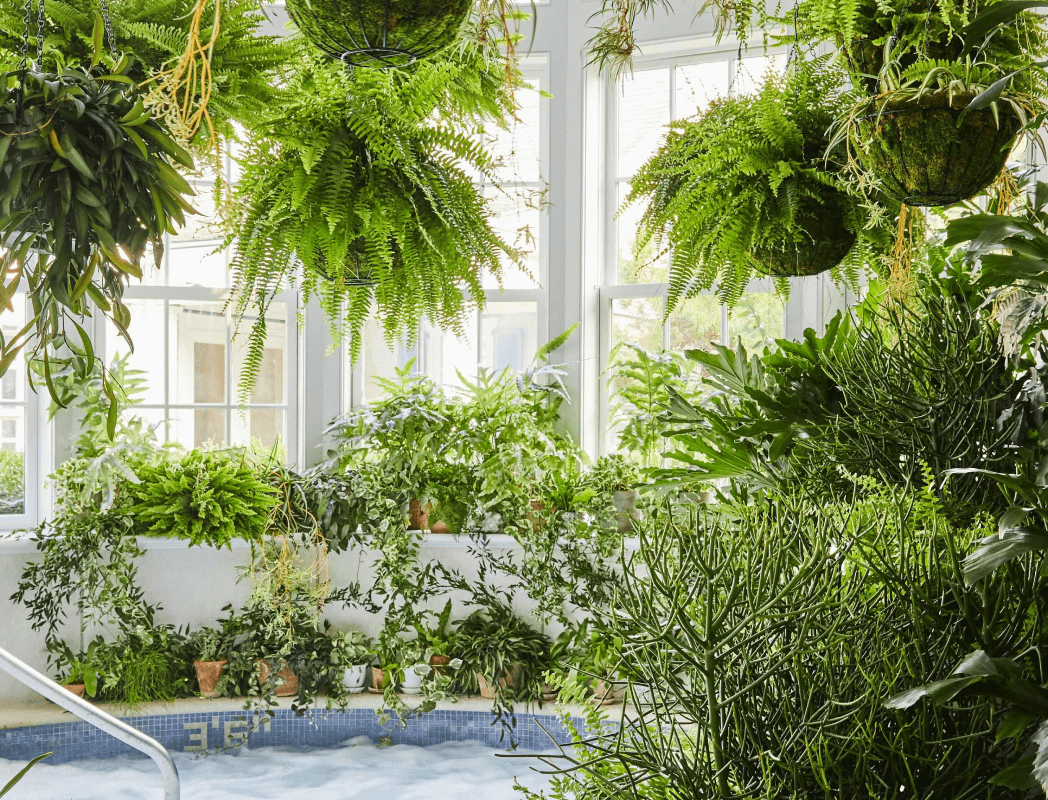 Plants add life (literally)
to any space.
At the spa, plants are absolutely everywhere, from the stunning gardens (the Mayflower encompasses fifty-eight acres) you can stroll through to the dreamy glassed-in hot tub to the giant pots of everything from succulents to evergreens throughout the soaring spaces.
Gardyn

Gardyn Home Kit

goop, $749

SHOP NOW
Potting Shed Creations

Seed Starter Set

goop, $55

SHOP NOW

Farmhouse Pottery

Trunk Garden Pot

goop, $45

SHOP NOW

SproutsIO

SproutsIO

goop, $799

SHOP NOW
Credit: Source link